---
---
Another example of a community energy project benefiting not only the environment or local economy, but having a clear social impact. – SEYN
Chase Community Solar
Chase Community Solar is a community benefit society and in 2015 managed to raise over £1 million, through a community share offer and loan, so that, with the support of Cannock Chase District Council, they could have 314 of their council bungalows fitted with solar panels. When the panels are generating, they provide free electricity to the tenants, who are mainly elderly or have poor health. Through the scheme, they have so far produced over 744,000 kilowatt hours of electricity (enough to make 7,236,150 cups of tea) and saved 401,328  kg of carbon dioxide emissions.
About the project
CCS is composed of its members, who are shareholders in the society, having invested in the Cannock Chase project. There are around 200 of them.  It is their money that, through what is known as a community share issue, has enabled much of the project to go ahead, but the addition of funds from a loan by an ethical provider made it possible to fit panels on more bungalows than could have been done with only investors' money. The final total was 314 homes fitted with PV installations in 2015.
The scheme, which has a planned life of 20 years, is eligible to receive the Feed-in-Tariff from the government, which is a subsidy for certain renewable energy installations. This, along with the funds raised by selling the exported electricity to the grid, forms the society's income, and is used to pay for the society's overheads, as well as a return to investors on their money. If there is any further surplus, this will be directed into a community fund for local benefit.
They do hope that, if successful, it will be an inspiration for similar community energy projects with councils and other social housing providers all over the UK and beyond.
Meet some of the tenants benefiting from having PV solar panels installed on their council-owned bungalows, and also some of the people who have invested in our community energy scheme.
To find out more about how the scheme works and all the benefits both tenants and investors will enjoy, please head here.
Investors in Chase Community Solar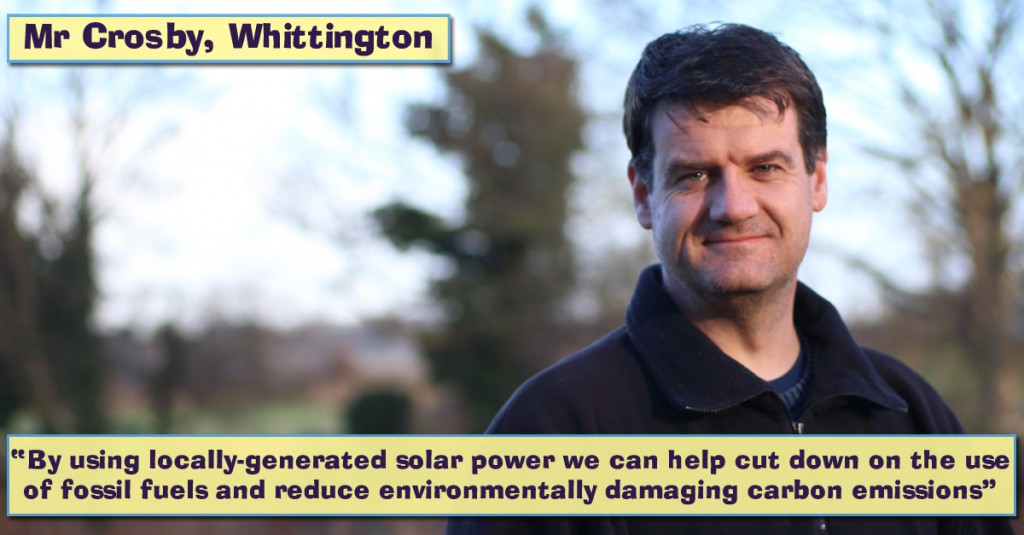 Mr Crosby lives in Whittington, near Lichfield, and is a strong supporter of renewable energy.
"I have invested in this great community project because it's a unique chance to help pensioners with their electricity bills but also to make a good return as an investor," states Mr Crosby. "Such opportunities are, in my experience, rare!
"By using locally-generated solar power we can help cut down on the use of fossil fuels and reduce environmentally damaging carbon emissions and move away from our reliance on large corporations and imports to supply our energy needs."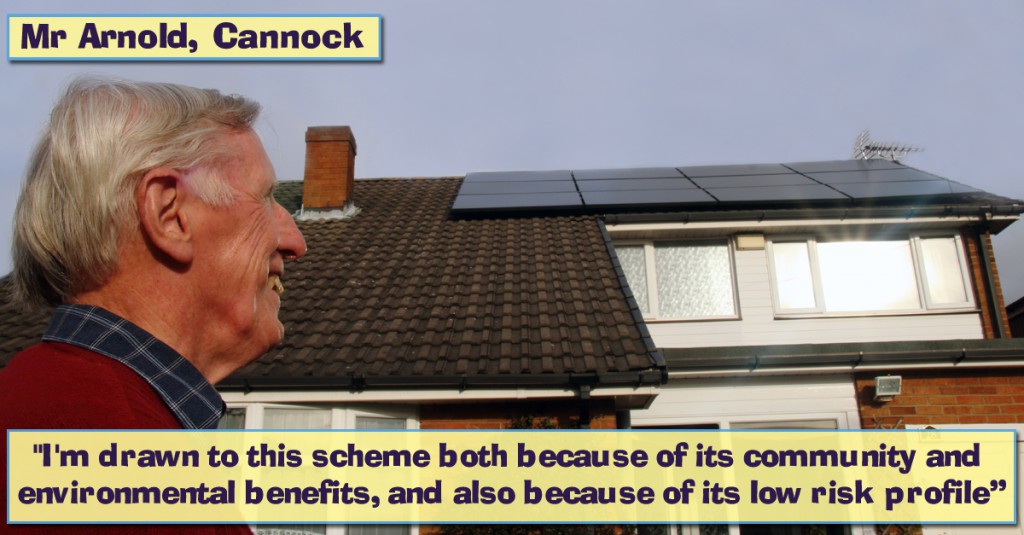 Cannock resident Peter Arnold, a retired finance director, was attracted to make an early investment in the scheme following an initial launch meeting in the area. Mr Arnold said:
"I'm drawn to this scheme both because of its community and environmental benefits, and also because of its low risk profile and the healthy forecast rates of return, both in terms of interest income and of the refund of capital invested over the 20 year life of the project.
"What is particularly attractive to investors is the ability under the Enterprise Investment Scheme to obtain a refund of income tax equivalent to 30% of the amount invested, which should give a very healthy rate of return of 10%. Naturally, potential investors in this type of scheme should seek appropriate financial advice."
The Tenant Investor

Roy Maydew, aged 65, is an ex-foundry worker living with his partner, Chris. Mr Maydew has invested £2000 in the project.
"I've been retired through ill-health these last five years. I've had strokes and Crohn's disease and I'm unsteady on my feet. So I'm here most of the time during the day and can get the free electricity. It's a great scheme. Also it's good because I won't have to worry about the upkeep or look after the panels myself.
"I saw a leaflet about the scheme and went along to a local meeting. I liked the idea of putting money in and helping get the scheme off the ground. It's a win-win situation for me – not only getting the electricity but also earning interest [on the investment]. There's next to nothing in the cash ISAs at the moment.
"Why don't the government give everyone a chance to benefit by putting panels on all the council houses?"
The Tenants Benefiting from Solar Panels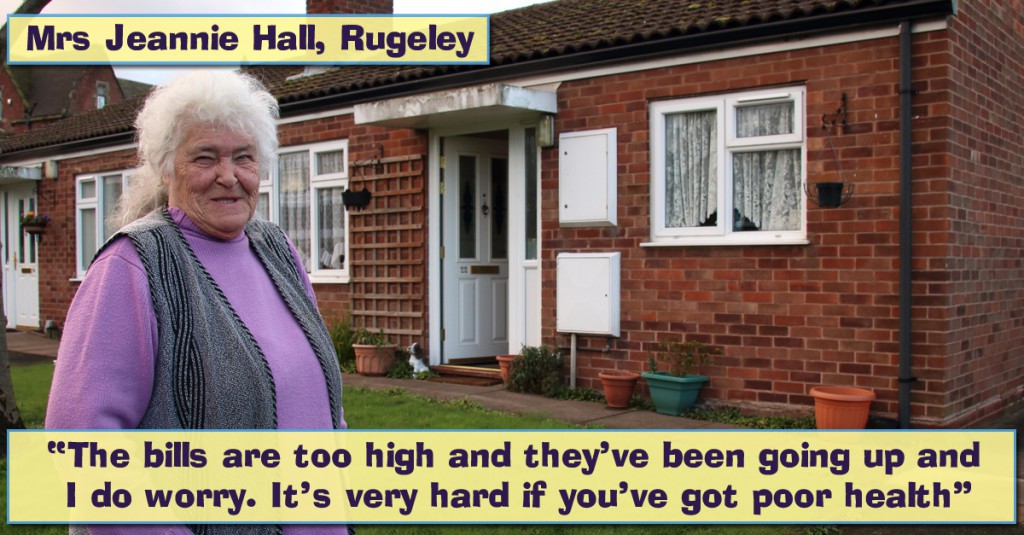 Aged 81, Mrs Hall used to work in local factories and her husband was a miner.
"The solar panels idea is bloody brilliant," says Mrs Hall. "It'll really help with the bills. With what we get from our pensions the bills are too high and they've been going up and I do worry. It's very hard if you've got poor health. There's no way I can keep my heating on all the time. Christmas is a struggle, you've no idea, and I've got 12 grandchildren to think of."
Mrs Hall's son is a Town Councillor in Rugeley and is very supportive of the project.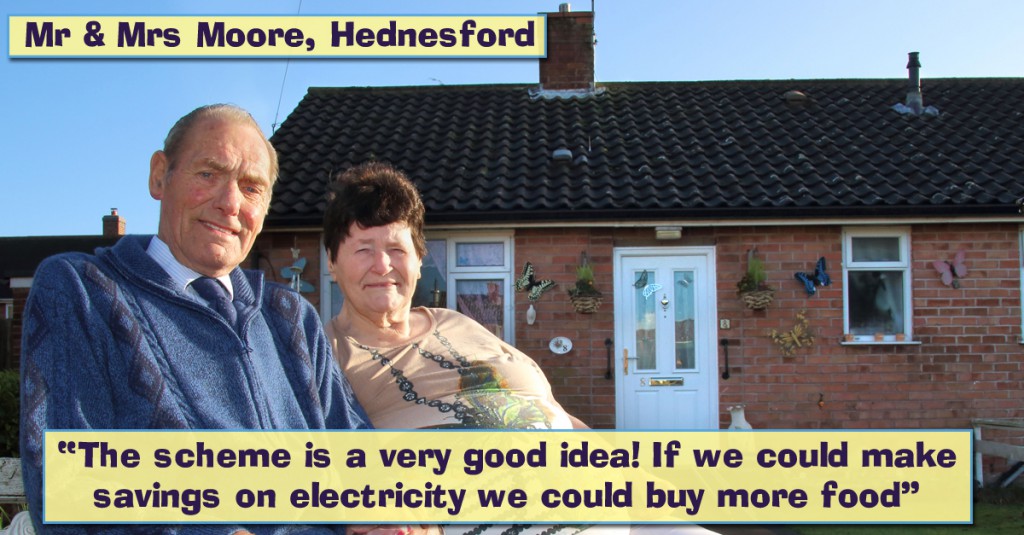 Mr and Mrs Moore, aged 76 and 73 respectively, live in the Hednesford area of Cannock Chase. Mr Moore is a retired artic lorry driver and the couple have three daughters, 11 grandchildren and 22 great grand children.
Mrs Moore is disabled and diabetic. She has limited mobility and so keeping warm is a problem. The couple have to manage their fuel consumption very carefully as their budget is very tight.
"The scheme is a very good idea! If we could make savings on electricity I could buy more food," said Mr Moore. "My wife is diabetic and is supposed to have 3 meals a day and currently we can't afford to do this"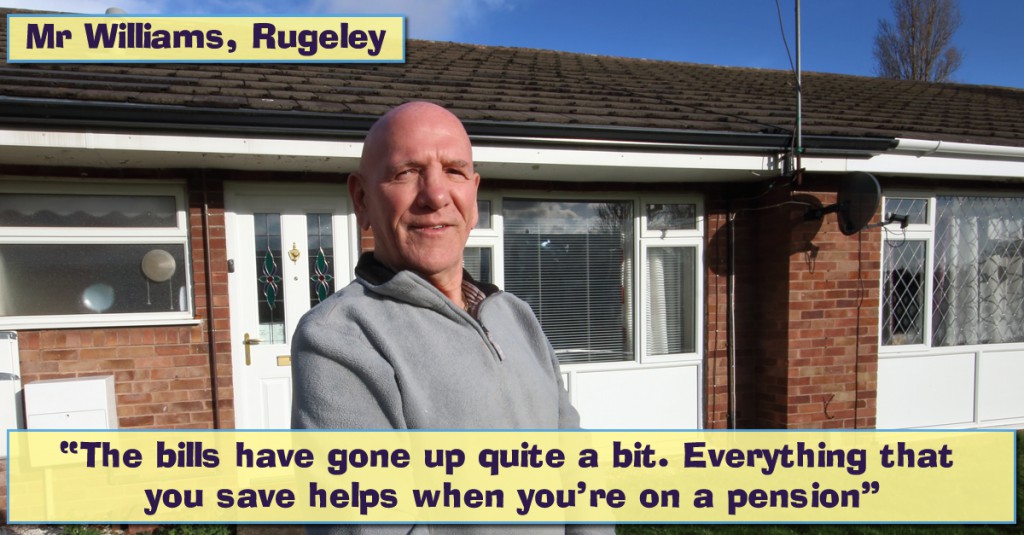 Bill Williams is a former professional boxer. He took up boxing at the age of 14 and was runner-up national flyweight champion in the late 1950s. When he gave up professional boxing he started working in the local coal mines and in 1958 was the National Coal Board flyweight champion.
"I really like the idea of the solar panels," says Mr Williams. "Everything in the house is electric and the bills have gone up quite a bit. Everything that you save helps when you're on a pension."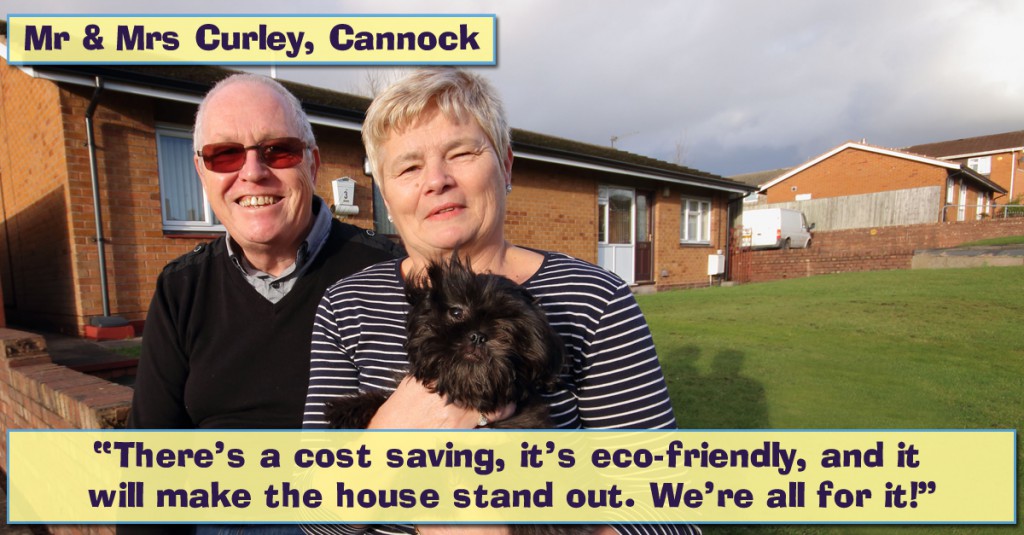 Mr Curley thought the council homes were generally well looked after and that if the technology is available to the council then panels should be installed. He currently spends £113 on gas and electricity per month.
"Installing PV panels is advantageous on all fronts," Mr Curley believes. "There's a cost saving, it's eco-friendly and will make the house stand out. I'm all for it!"
Pat and Richard Astbury live in High Street, Norton Canes, and had PV solar panels installed as part of a pilot scheme run by Cannoc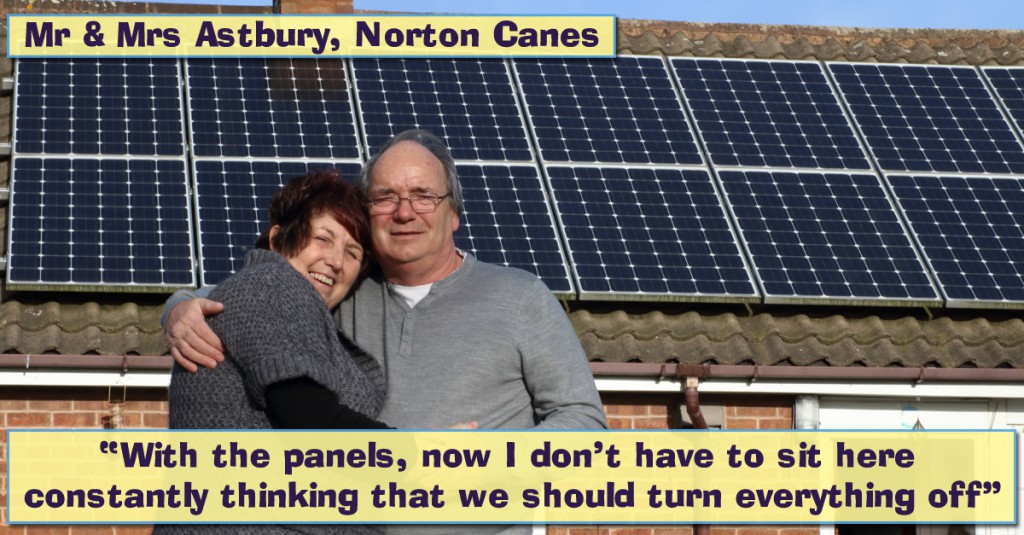 k Chase Council in April 2012.
Both of them suffer from serious ill health and are unable to work.
Mrs Astbury says "You do worry about the bills when you're both not working. But with the panels now I don't have to sit here constantly thinking that we should turn everything off. We've saved over a third of our electricity bill – at least £150 – it's amazing and we've got a bit more money to spend on the grandchildren now. I thoroughly recommend it to others".
If you want to learn more about it visit the CCS website.